We are pushing the development of technology further every day.
We are influencing the life of humans always.
We are communicating and representing values.
It is time to speak about the responsibility and ethics of User Experience. Sometimes it seems to me that digital experiences are still far away of the same perception of ethics as traditional design in its physical or communicative discipline. Coincidence or justifiable with its age and speed of development. We are going to discover it.
We've got a key to the mind of people, we should respect it.
This article is part of a series about User Experience Ethics.
I will discover different themes where bad user experience has the potential to make our life more complicated.
Today:
Fare dodging with in-app ticket purchase
Transportation became more complex and more stressful. Especially in big cities or metropolitan areas, the number of people using public transport increased significantly. Different concepts, applications, and ideas exist to make it easier to move from A to B and to connect us smoother. The development of this movement is lead by the transportation companies of the regions itself — their desire to offer an efficient movement is big because costs can be reduced and data be collected — both are requirements for their growth and profits.
Applications for mobile devices are one of the most popular developments of public transportation. There are several big players like Google Maps, Maps by Apple, Citymapper, Uber and Lyft — some of them are only offering information about getting to the desired destination, some of them are offering transportation on their own. On the opposite, we can find the offers of the public transportation companies theirself.
So what is the difference between independent applications and apps owned by transportation companies? It is easy. Data to process the requests of users often is limited to their own application. Some companies are sharing the information for traffic, connections and more with the big players. But there is one key feature that is mainly reserved to the own transportation application: ticket sales.
We are approaching the peak of this story and the example of the fare dodging guy.
Karl's return with a train of Thurbo
Karl was visiting Constance in Germany. It is a town at the Lake Constance and the border to Switzerland. Many people are traveling to the city for shopping and the pleasure. This Friday Karl decided to visit an event and to stay longer. On his way home, he decided to buy a ticket on his smartphone to return to St.Gallen — it was 0:55 in the night.
Karl is well experienced in booking train connections with the mobile app on his iPhone. It is fast and simple — especially because he is an owner of a member's card that offers 50% discount on each train connection in Switzerland: the Halbtax or Half Fare Travelcard by SBB, the Swiss Railway.
So, ticket bought activated on the phone and the return to St.Gallen started.
On his way back he has been controlled by employees of Thurbo, a transportation company of Eastern Switzerland holds mainly by SBB. As always he is presenting his ticket. Not as always the inspectors are telling him that he is traveling without the additional Night Fee. The Night Fee is an additional cost of 5,– Swiss Francs to provide train connections to people at less-used hours in the night. He is shocked that he is traveling without a valid ticket and is discussing with the inspector. No chance: without additionally bought Night Pass there is no transportation in this train at this time, no matter Karl bought a "valid" ticket.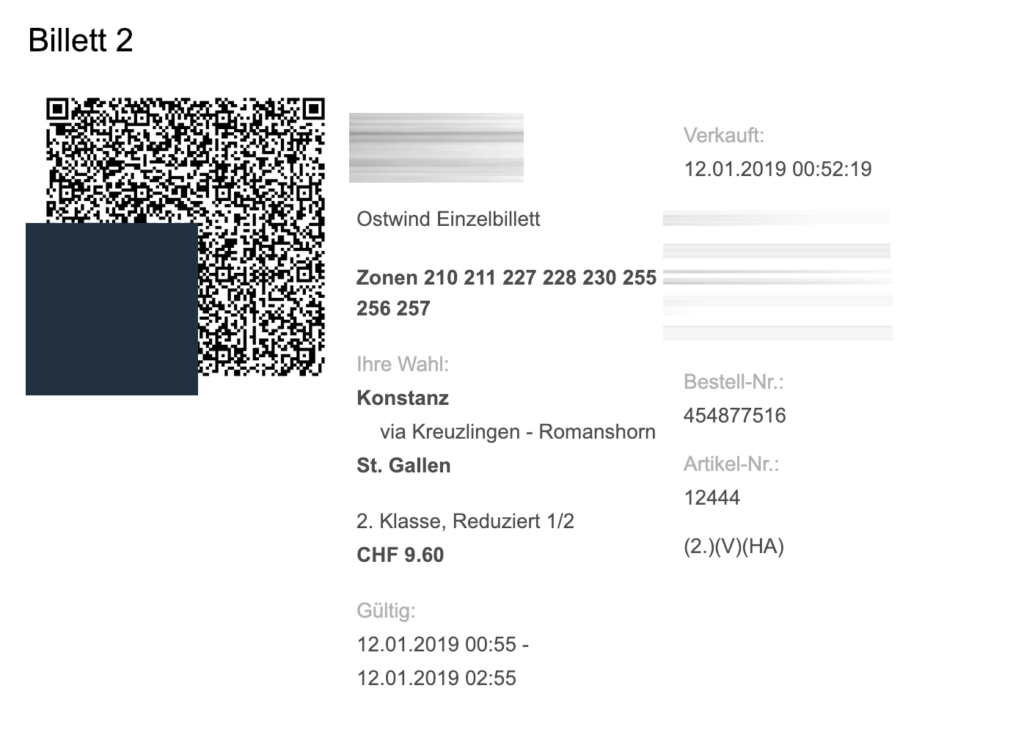 At the picture, we can see the ticket of Karl. It is showing some information about when it was bought, its origin and destination. The most important information can be found in the bottom:
Gültig (EN: Valid):
12.01.2019 00:55 –
12.01.2019 02:55
Everyone with this information would think you are eligible to use the trains on this trip through this time window. But it would be too easy to prove that — of course. So we can take a look at the experience in the mobile application of SBB to understand how Karl bought a ticket without Night Pass, thinking all was right.
The first two screens are showing the different ticket categories to buy your connection. On the first one, you can see the "OSTWIND Einzelbillet", the regular ticket that Karl always is buying to get from A to B — and a ticket that worked always till today. At the second screen, you can see the "Nachtzuschlag" which is called the Night Fee in English. As you can see, there is no way to buy these two things with the same requestor process.
The following positions in the list are normally upgrades or day tickets, services to extend your existing ticket. In the case of the Night Fee, also an extension. What was not clear to Karl, is the circumstance that the regular ticket, suggested as a valid option for his connection at this night, is not automatically booked with Night Fee. So every user has to buy the ticket in a second step, starting from 0, as additional contract feature.
The third screen is showing the route Karl has to follow to get home. Including the information for changes and more.
There are two hints to get informed about the additional costs and that it is mandatory to have a Night Pass (not explaining that tickets bought for the night period are not containing it, but no matter…).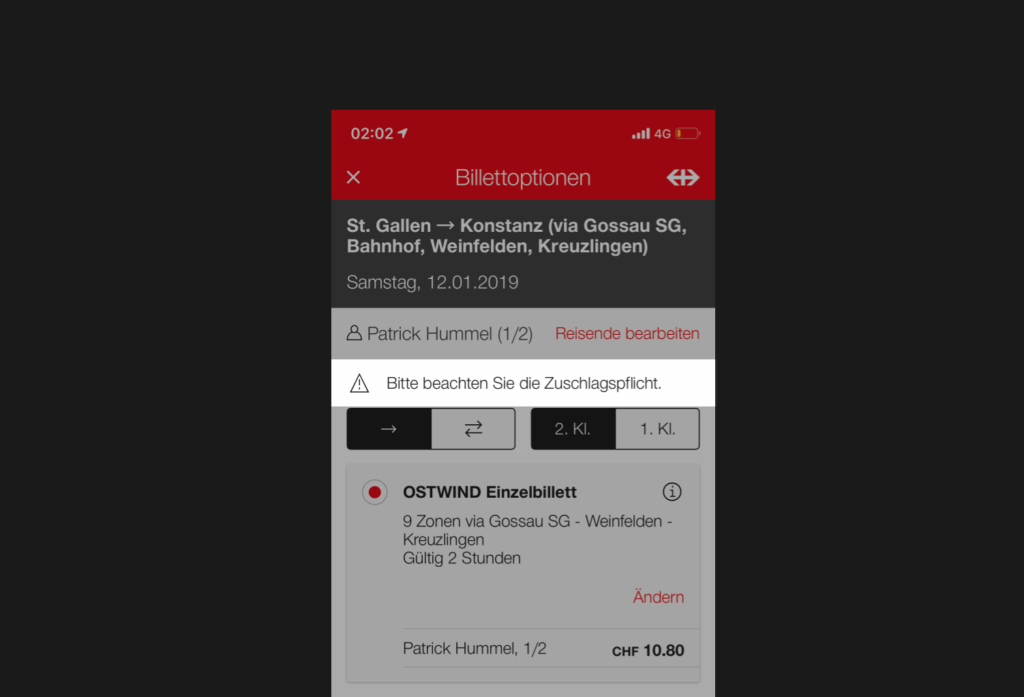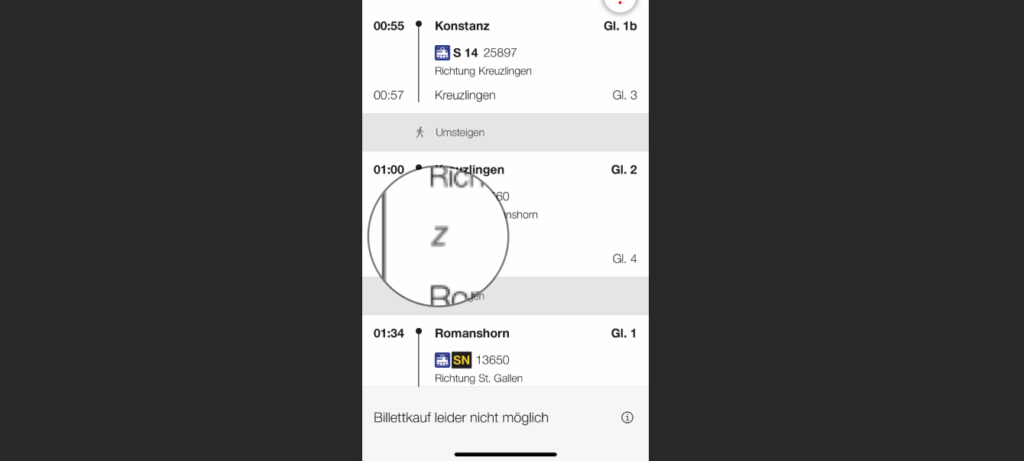 So we've got two hints in our application.
a) An attention mark and the information "Please take aware of the additional costs" in a light and small font, not very prominent and attention grabbing.
b) The little (and for me funny) "z" that refers to a footer area, explaining that this connection needs a Night Pass.
Both hints are very retiring and positioned in a way it makes it hard to register. Especially if you are a regular user of the app without reading all after hundreds of checkouts.
We can summarize that our mobile application by SBB is not adding the Night Fee automatically to a ticket that would need it, it does not allow to book it in the same checkout procedure as the ticket purchase and its information about it, is very limited and complicated. So if you are buying a trip in the night within night-fee-time and non-night-fee-time, you just get this little Zs to be aware of this duty.
What is the reason behind this bad design and is there any statement of the company itself?
So the reasons for this design are completely speculative. We cannot say if this non-transparency is wished or just a neglected feature. What's interesting about this fact, is the handling of SBB in the past:
Another transportation brand of SBB, the ZVV — Public Transport of Zurich, has been ordered by the Swiss Federal Office of Transport to compensate people with similar missings in the amount of the fine, which consists from a fee of 70 Swiss Francs and the additional value of the Night Pass, 5 Swiss Francs. This was 2012.
The Federal Office of Transport decided, that SBB has to grant valid transportation in a train with a ticket that was bought based on a connection that takes place in this time period, no matter it is night and any additional fee would be required.
Now it is 7 years ago that the Federal Office of Transport responds to complaints of three fined clients of the SBB. 7 years later we are heading the same mess and problems in the digital application for smartphones. One idea about this miss-communicated Night Fee could be that the Swiss Railway is relying on the revenue of this fare dodgers. So designing a process that really helps people to book the right ticket would not be conducive to its business case. The given design decision could be an answer to legal processes and to modify the system that it is compliant with the requirements of the Federal Office.
We will never know what's the intention behind the design, but what we know is that people who are longterm customers of this transport organization turned to illegal users of a service, just because a piece of information was not displayed adequately nor mandatory.
User Experience, in this case, failed because it was not able to differentiate between honest customers and real fare dodgers.